Meridian, Mississippi has just about every chain you can imagine: Outback, Chili's, BWW, Applebee's, Olive Garden, etc, but it's the local restaurants that I really enjoy. While there aren't a ton of options, there are enough to try them all and find your favorites.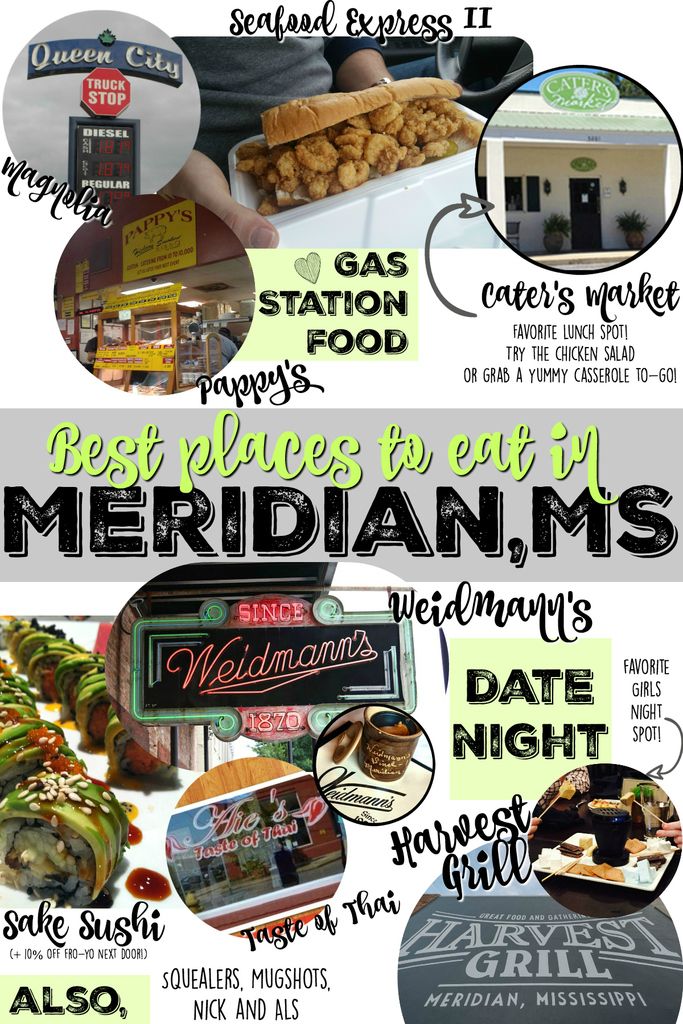 Gas Stations:
Might seem a little crazy but eating at a gas station became a pretty regular experience for us while living in Mississippi. We even took my family to eat in a gas station (or two!) when they came to visit!
Seafood Express II: some call these the best seafood po-boys in the state! While your immediate instinct might be "seafood in a gas station? no way." get over it because these po-boys are worth it. Huge and hot, they are made to order and delicious. My advice is to go for lunch because it is not the nicest gas station in town and to call ahead your order so that you can just walk in and pick it up (otherwise you are waiting inside for your order to be made and it can get pretty crowded!)
Pappy's BBQ: This bbq joint is inside of one of the better gas stations in Meridian and also THE CLOSEST food place to the air station. If you arrive and they aren't out of peach cobbler yet, don't skip it!
Magnolia: Your typical greasy, hangover food diner that just so happens to be in a truck stop gas station.
Lunch:
While there is McAllister's Delis and Deli on 5th, the only lunch spot worth mentioning is:
Cater's Market: The best! Their chicken salad is amazing, their pimento cheese is delicious, and you can pick up a fresh made casserole for dinner or a cake for a special occasion while you are eating lunch. They also carry a small market of specialty foods (gluten free flours, ezekiel breads, cheese straws, etc). They are only open for lunch and closed on Mondays so plan accordingly!
Date Night or Girls Night:
Weidmann's: This is technically THE Meridian restaurant. Open since 1870, it is a classic and a must try. They are also one of the only places that serves Sunday brunch (with mimosas and bloody mary's!) On the weekends, reservations are recommended however if you did not make a reservation, you can usually get a spot at the Balcony Bar upstairs. It has a more casual atmosphere but serves the same full menu as downstairs in the main dining room.
Harvest Grill: Personally, my favorite restaurant in Meridian and the place where we celebrated every birthday, date night, and girls night. This is the closest thing here to a "foodie" style restaurant you would see in other places. Try one of their "Mississippi Mules" or split a bottle of Sauvignon Blanc. Their brussels are fantastic (I dream about these, I swear!) and you have to do the table side s'mores at least once!
Sake Sushi: It's pretty much impossible to go to Sake and not see at least one other person you know. Half sushi restaurant, half hibachi tables...it is a typical Friday night spot. Don't forget to take your receipt next door to Yoo-yoo for 10% off fro-yo.
Taste of Thai: A tiny hole in the wall Thai restaurant downtown if you need to get your pad thai fix. Don't be scared off by the outside appearance, the place is clean and the food is good!
Other food options: Squealers (bbq), Mugshots (burgers and beer), El Norte (mexican), and Nick and Al's (pizza).