Meridian has to be in the best location in terms of being in the center of a ton of fun southern cities. There are places within six different states that fall within a few hour drive and more importantly, within bounds (meaning no leave required to go!) Here is my favorite getaway in each of those states!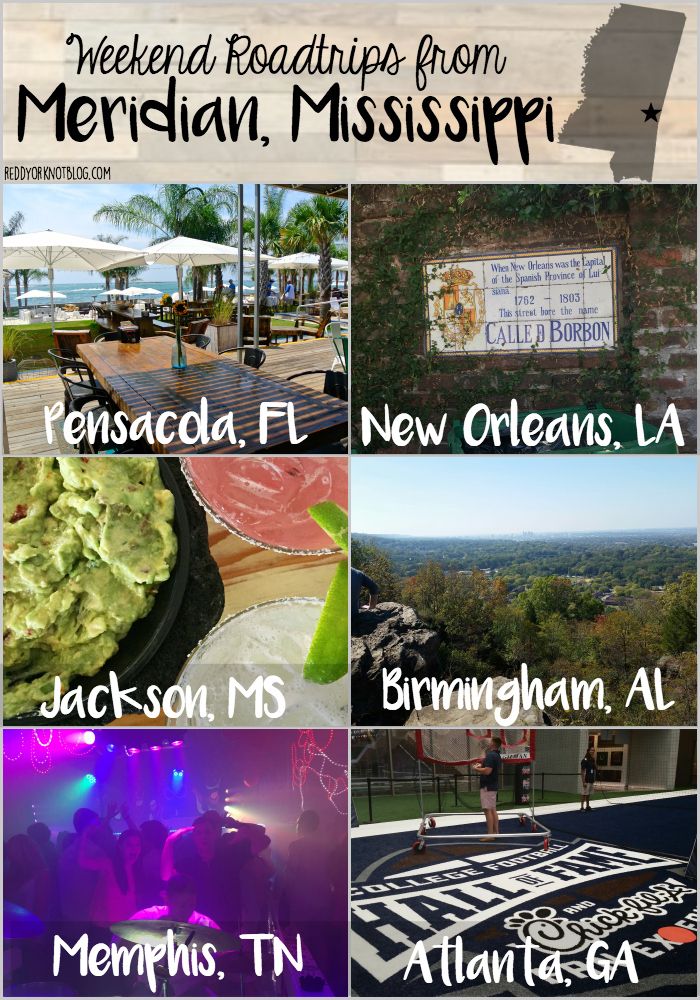 Pensacola, Florida
Eat: Coffee at The Bodacious Brew, Grits a Ya Ya at The Fish House, or a ramen bowl at Nom
Drink: An Irish Wake at McGuires or a specialty cocktail at 5 1/2 Bar.
Do: Palafox Market, a trip to the beach, and gallery night
Stay: The Gateway Inn on base (can't beat the price!)
See more:
here
and
here
New Orleans, Louisiana
Eat: Three course lunch (with 25 cent martinis) at Antoine's or pizza at Domenica. And of course, beignets at Cafe Du Monde.
Drink: Water...in between all of those sugary hurricanes on Bourbon St, of course!
Do: Drink and Learn
cocktail tour
Stay: The Roosevelt (make sure to ask about the military rate!)
See more:
here
and
here
Jackson, Mississippi
Eat: Tacos and tableside guac at Babalu
Drink: A cocktail at the speakeasy, The Apothecary at Brent's Drugs
Do: Check out Livingston Merchantile
Stay: No need--we always just drove home!
See more:
here
and
here
Birmingham, Alabama
Eat: BBQ at Saw's Soul Kitchen, pizza at Post Office Pie's, or sushi burritos at Wasabi Juan's
Drink: A beer at Avondale Brewery
Do: Indoor rock climbing at First Ave Rocks, hiking at Ruffner Mountain, or shopping at The Summit
Stay: Renaissance Ross Bridge Resort
See more:
here
and
here
Memphis, Tennessee
Eat: Rendezvous and The Commissary BBQ, so that you can compare and pick a favorite or anything at SOB, South Of Beale
Drink: A 40oz at Raifords while playing the drumset!
Do: Beale Street, the duck parade at The Peabody, or a Grizzlies game at FedEx Forum
Stay: The Exchange Suites
See more:
here
and
here
Atlanta, Georgia
Eat: A burger and pimento cheese friends from Farm Burger
Drink: A cocktail at Top Golf
Do: The College Football Hall of Fame
See more:
here
and
here