So one way or another you have found yourself living in (or visiting!) Meridian and are wondering "What in the world is there to do here!?" While there may not be a Starbucks or a Target for almost 100 miles, the answer is surprisingly a lot! Looking back on my time in Meridian, we had a blast living here! Wine Wednesdays, winging parties, spouse club events, weekend getaways, and impromptu neighborhood parties happened more often than not and I can say for sure that having a positive attitude and a willingness to make the most of everything matters.
If your time in Meridian is just starting, I'm kind of envious; make the most of it! Take advantage of your time in the Deep South and stay involved. Here are some of my favorite things to do in and around Meridian: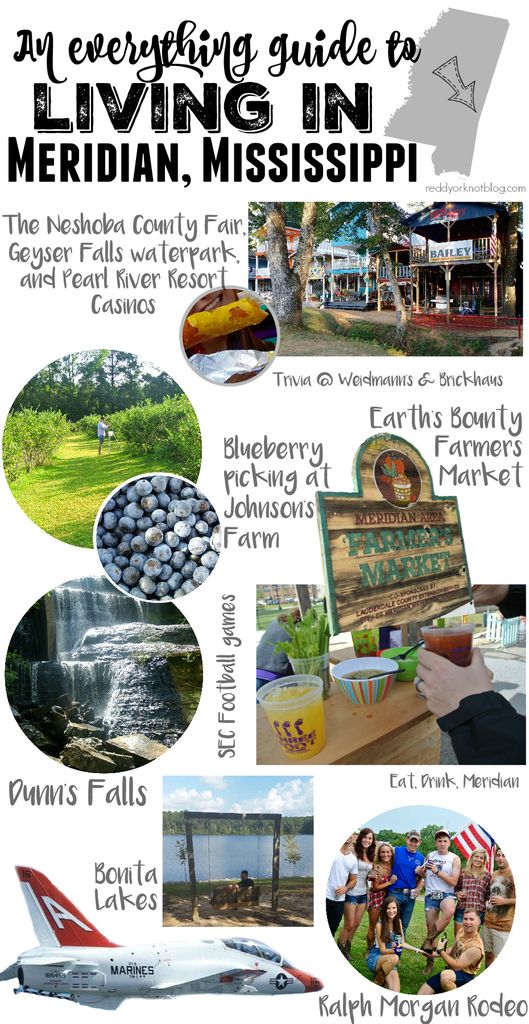 Geyser Falls Water Park
: Geyser Falls is a 23 acre water park with a wave pool, a lazy river, a "beach" pool with cabanas, 13 water slides, a beach club restaurant, and tiki bars in Philadelphia, MS (about 45 minutes from the base, right past the casinos). We lucked into hearing about this place, took a drive out to check in out, and were totally obsessed! We bought season passes
that day
and highly recommend them! The summer in Meridian gets HOT and going on a day trip to the waterpark felt like we were on vacation a world away from Meridian.
TIP: Get season passes early-it pays for itself in three trips! The park opens in March and closes during the week in September so go early in the season to take advantage of your passes!
Pearl River Resort
: Two big casinos with tables and slot machines, with normal casino style buffets/bars/restauants, a hotel, and the nicest golf course in the state of Mississippi, Dancing Rabbit. Pearl River resort is about 45 minutes from the base on the Indian reservation in Choctaw/Philadelphia, MS.
TIP: Sign up for the rewards program (it's free) and they often send out vouchers for free rooms at the hotel!
Neshoba County Fair
: One part state fair, one part party cabins -- the Neshoba county fair is an experience! Held one week in July, people pour into town from all over to stay in one of the 600 party cabins and 200 RV spots. While you probably won't be lucky enough to get an overnight spot, it is still worth the trip for the evening! This fair, referred to as
Mississippi's giant house party
, has been a staple in Mississippi since 1889 and is the perfect way to immerse yourself into local culture.
TIP: Do not miss the Neshoba County Fair!
Trivia: Tuesday nights trivia is at the Balcony Bar, upstairs in
Weidmann's
and Wednesday nights trivia is at the
Brickhaus Bar
, both downtown. It is free and both give away restaurant giftcards as prizes. (Brickhaus also gives away free pitchers of beer to all teams who beat the bartender!) There are always people you know at trivia and it's a fun way to break up the week.
TIP: Weidmann's trivia gets packed so get there early to get a table.
Earth's Bounty Festival: There is a small farmers market held under the bridge near the train station each Saturday morning, June through November, from 8am-3pm. The first Saturday of each month, there is a larger farmers market called Earth's Bounty.
TIP: The
first Earth's Bounty
of the season is always the largest and the one I would recommend! Last year, it overlapped with the Three Foot festival which meant mimosas and bloody marys ;)
Also, if you are a fan of local farm raised meat, eggs and produce,
Beaverdam Farms
is incredible. Get on there mail list
HERE
and every other week you have the option to place an order to be picked up that Saturday. (No requirements to ever order buy joining the buying club mailing list) We love getting their bacon and eggs and making a big brunch on Sundays.
Ralph Morgan Rodeo
: The rodeo is held multiple times during the summer, right here in Lauderdale county!
TIP:
Dressing in redneck attire
and riding in the back of a pickup truck makes it even more fun ;)
Dunns Falls
: A beautiful waterfall, just 10 minutes south of downtown Meridian! This location used to power the Stetson hat factory however now is just a great spot to relax on a hot summer day.
Eat, Drink, Meridian: We attended Eat, Drink, Meridian on a whim, convinced that we would grab sushi afterwards because there wouldn't be much food at the event. Boy, were we wrong! For a five dollar ticket, we were able to sample food from over 25 local restaurants, everything from Waffle House to Harvest Grill! On top of that, we were also able to help ourselves to drink samples (in most cases a full beer, cider, or cocktail!) from 5+ bar/distributor stations. We must have consumed 10x our $5 tickets and had a blast! The event was held in a hotel ballroom in April so keep an eye out for any advertisements about this!
Bonita Lakes: Great walking and biking trails around the lake near the mall. Lots of picnic tables and outdoor swings. 4th of July fireworks are also held here!
Blueberry picking at Johnson's Farms: A fellow spouse, Alyson, passed along this suggestion and it was a great one!
Johnson's Farms
is open in season, Tuesdays through Saturdays, for blueberry picking. The farm is large, the blueberries are plenty, Joe is sweet as can be, and the prices can't be beat. Go early in the season for the best selection!
TIP:
Head out early
in the mornings when they open to avoid the crazy Mississippi heat!
Mal's St. Patricks Day parade
: When I heard that one of the country's largest St. Patricks Day parades was held right down the road in Jackson, Mississippi, gathering crowds of over 70,000 people, I thought it was a mistake. Turns out, it is true! What looks more like a Mardi Gras parade mixed with a college football tailgate, this is the real deal and worth the drive!
TIP: Bring the full tailgate spread: tents, coolers, tables, etc.
We showed up
with just an umbrella (it was pouring!) and were shocked to see miles and miles of tailgates set up for hours before the parade!
Binachi Shooting Sports
: Sporting clay, skeet shooting, and archery. The location is pretty,
the owner is knowledgeable
, and they have guns (and everything else you need to shoot!) to rent if you don't have your own.
SEC Football:
Mississippi State
and
Alabama
are both within an 1.5 drive and Auburn and Ole Miss are also both within bounds. On a long weekend,
Knoxville
is an option too! It is definitely worth the drive for a football game or at least the tailgating during the fall. Sometimes, ITT even has free tickets for Mississippi State games!
Looking for more to do in Meridian?
Check out "
Where to Eat
" and "
Where to Roadtrip
" while living in Meridian, Mississippi!