Whenever I pictured myself being pregnant, I assumed I would be obsessed with taking pictures and sharing weekly updates. Turns out - I am the worst so here is a little bit of catching up.
I found out that I was pregnant on December 11th at almost 4 weeks exactly. I had a weird intuition feeling and took a test while Rob was at the gym. It was a very clear positive! I freaked out and paced around my house alone before realize the clock was ticking and running to walmart to grab a few more tests. All positive! I snapped a picture, printed it, and taped inside the cover of a little book "A Dad's Guide to Everything". With shakey hands, I wrote Rob a note in the front cover and stuck the book in his Christmas stocking. When he got home from the gym, I made small talk and then told him someone sent him a gift and left it in his stocking. He immediately assumed it was my parents and went to check it out. He read the cover of the book, and not thinking anything of it, flipped it over and started reading the back!!! (Clueless!) I told him to open the book and the look on his face when he saw the picture and finally understood what was happening was priceless. I will never forget the joy of that moment.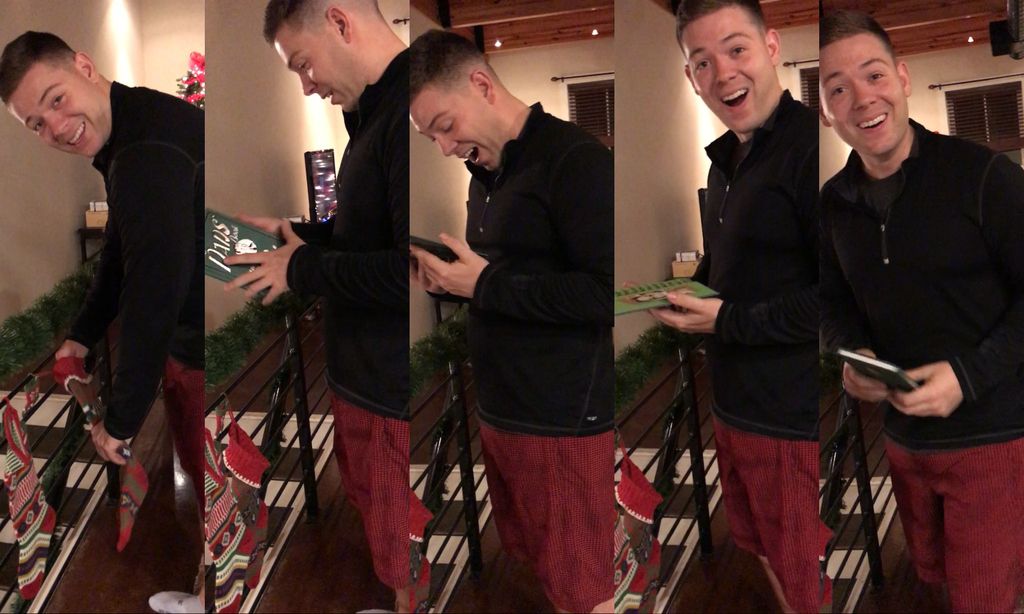 We went to Pittsburgh for Christmas the following week and since my sister just turned 21, I knew it would be suspicious if I turned down alcohol/trips to the Southside all week. Our Christmas Eve, my family has a tradition of opening gifts from each other (not Santa gifts!). We went through all of the gifts and then we told everyone that we had one last gift for them to open at the same time. Seemed obvious to me but no one had a clue. Inside the bags were passport covers/luggage tags that said "Mini world traveler arriving in August". Everyone opened at the same time, read them.....and nothing! (Clueless x2!) Finally my brother realized what it meant and shouted out "preggo!?!" It was a total shock for everyone and such a happy surprise!
A week after that, we met up in Austin with Rob's sister Erin and her bf. We had bought all inclusive New Years Eve tickets and I knew not drinking, especially champagne, would be a dead giveaway! Erin and I are usually party partners in crime haha The morning of the party, we exchanged gifts in our hotel room and I told her there was one last gift in the fridge. There was a bottle of almond champagne chilling and she pulled it out and started reading the label. She totally thought it was just a cute NYE themed label (Sip, Sip, Hooray...) until she got to the tiny print that said "There's a baby on the way" and immediately burst into tears! Another total surprise!
We had a little flexibility telling Rob's parents since they live right up the road in Charleston and we were able to wait until after my first ultrasound. They helped us out a ton during our move process so we were having lunch with them in a Charleston and gave them an envelope to "say thanks for all the help". They totally thought it was going to be a gift card! As his mom opened the envelope and pulled out the ultrasound picture, more shock and tears in the middle of a tiny restaurant!!! Not sure how we managed to TOTALLY surprise everyone but we did!